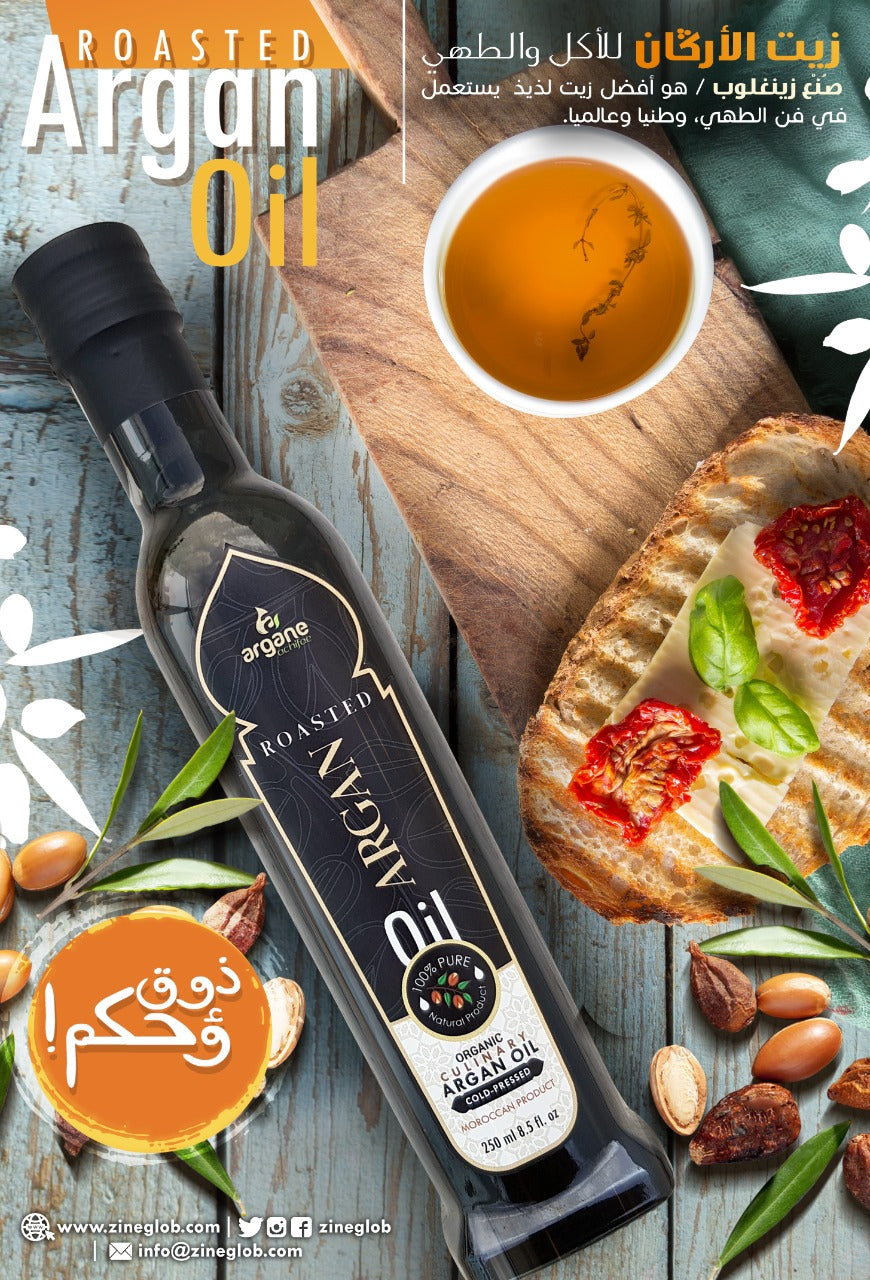 Roasted Argan Oil
Roasted Argan Oil is our Quality to offer the High quality  Extra Virgin Culinary Argan Oil as it is the best Food vegetable oil in the worldwide . Deliciously tasting, superb in composition, and nutritious. The poster child for sustainable sourcing. Undiluted, pure and USDA organic certified. Tested for centuries, rarely produced for use outside the local communities.
Supply chain Roasted Argan Oil
ZINEGLOB located in Agadir Morocco (the heart of Argan Trees ) , we have established relations with the argan community involved in the Argan oil production and sharing our passion in providing the best product possible. Pure, undiluted- and tasty! We engage with scientists, researchers, share knowledge, participate in clinical trials studying the benefits of Argan oil for humans, and publish results on this website.
Sustainability Roasted Argan Oil
 Wild harvested by hand and respectfully sourced in the Argan Bio-Reservoir around Tardouant where the terroir is hilly. The argan trees root deep and sun and winds have positive effects on the quality of the argan fruits.
Argan Fruits Cracked by hand, the kernels are selected for artisan roasting by our monitoring temperature,   After quality control, kernels are cold-pressed produced in small batches, with a rigid filtration process to provide top quality culinary argan oil.
Best in class manufacturing standards, with a keen eye on hygienic standards, are observed. Tests on the chemical composition -acidity-, texture, and taste ensure only the best quality, Extra Virgin is released for bottling into our black colored bottles.
Transparency Roasted Argan Oil
Transparency in the value chain is key, and organic certification, such as  USDA organic certified, ensures standards are met and a paper trail on origin and pressing is documented. Before export, a government agency lab has to release shipments after testing on purity and acidity Analysis.            
Delicious Roasted Argan Oil
But the taste is something different -and experience and knowledge matter to get a great tasting oil. Our Extra Virgin Argan Oil has a delightful nutty taste and is very Suitable to cook, couscous, bake or finish with.  The result is a luminous oil balancing layers of rich hazelnut and pistachio like flavor, with a crisp and pleasant robust finish.
Healthy Roasted Argan Oil
Proven to help reduce cholesterol, diabetes and many treat a health issue. Never diluted, nothing artificial added. Clean label: one ingredient. Tasty and Healthy,
---