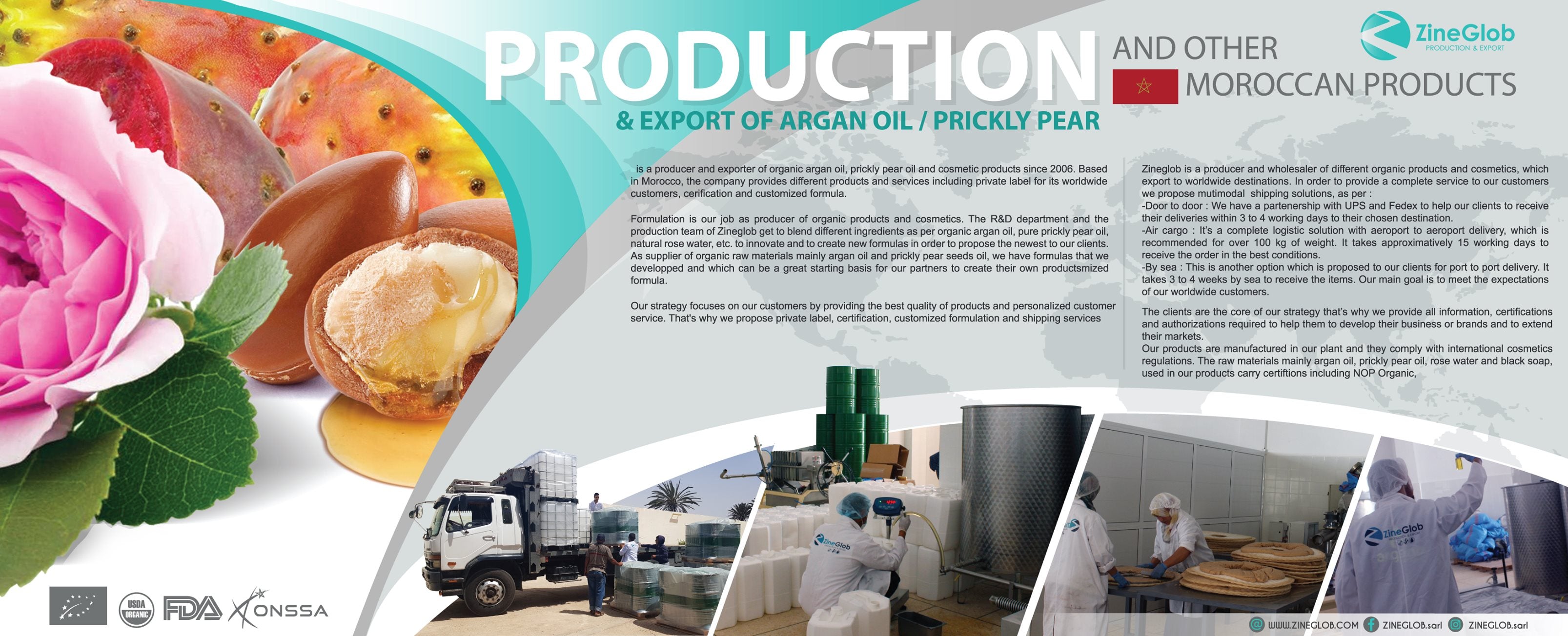 Moroccan argan oil producer
Moroccan argan oil producer
Based in the heart of Argan Trees Forest, in Chtouka ait Baha, this cosmetic beauty product Factory benefits the world with its 13 years of experience .
ZINEGLOB, a collaborating company with Mother Nature, gives 100% natural products. Knowing that well-being combines health & beauty, ZINEGLOB offers a range of High-quality products, as Argan Oil cosmetic or food. to added value of ZINEGLOB is reflected in the respect of the life cycle, the practice of fair trade and solidarity as well as entrepreneurial values all important to each other. ZINEGLOB stands out for its value steps based on the collaboration of indigenous rural women. Far from being a Argan Oil , ZINEGLOB establishes an economic balance, for social life of women,
ZINEGLOB draws its Argan Oil seeds from forests of argan Oil trees, Argan Oil tree of Morocco, in order to make it a Argan Oil  trade mark. Mainly access to argan oil, ZINEGLOB cosmetics range from shower gel to tanning oils. The exoticism and characteristics of Morocco are identified and represented by ZINEGLOB  products.
how ever , is the ranges of argan oil Cosmetic,  prickly pear seeds, rose water,  complete the beauty & well-being treatments of ZINEGLOB.
From Argan Oil raw materials to finished Argan Oil products, ZINEGLOB make a process of quality control according to the Norms standards in modern production department and optimized for clients satisfaction. For a quality overview, at ZINEGLOB, 150 kilograms of argan Oil fruit are needed to produce 1 galon of argan oil.
ZINEGLOB work with their shipping partners such as FedEx, Dhl or Aircargo to deliver in record time and safely up to more than 5 tons of their products.
More Pieces of information concern Argan Oil Morocco
Argan oil is taken from the argan tree, rare and endemic in south of Morocco. A Argan Oil tree specifically Moroccan. It Grow an area of more than 780,000 hectares, or near of 55% of the surface of the "Agadir - tiznit - taroudant - essaouirra" regions. It grows in everywhere in those zones of Morocco.

Argan Oil Rich in vitamin E ( Tocopherol) also Argan Oil is the best antioxidants, Argan Oil also used for its cosmetic Beauty health properties skin and hair cares.
Argan Oil-related with the Berber Amazigh tradition, Pure Moroccan Argan oil is the oldest Berber drog.
Argan Oil research has shown that argan oil strengthens the skin, Argan Oil allows the permeability of the epidermis, and Argan Oil delays cellular aging and gives of elasticity of the skin and anti dan full of hair treatment from the active ingredient of Argan Oil.
Argan oil certified organic for food reduces the amount of cholesterol in the blood of the body by avoiding its deposition in the arteries, So it gives very good nutrition to the body,
Argan Oil is a 

Natural Bio Oil

Argan oil is produced from the fruits of the argan tree, this latter gives a fruit that looks like almond, which is dried in the sun. Then, a kernel containing seeds is extracted from the fruit: the kernel, which will then be transformed into oil. It takes a lot of fruit to produce argan oil – 100 kilograms of fresh fruit for just 1 liter of oil.
Argan oil benefits Morocco
Revitalizes the skin and improves the radiance of the skin.
Reduces the signs of aging (anti-wrinkles)
Regenerates and protects the skin barrier.
A gentle makeup remover for the eyes (removes even waterproof mascara)
Relieves and soothes the itching, (acne, eczema, psoriasis)
Protects against cracking caused by drying of the skin.
Natural and effective against stretch marks in pregnancy.
Nourishes, strengthens, and gives shine to the hair.
Repairs and strengthens the hair
Argan Oil OR 

OIL OF ARGAN Morocco

Pure certified organic argan oil cosmetics extracted from the argan kernels tree, rare Argan Oil trees of Morocco. An Argan Oil tree specifically Moroccan. It take an area of ​​more than 750,000 hectares, or 55% of the Argan Oil area of ​​the total region. Argan Oil benefits we can account however it is ultimate for skin care and hair care.
BENEFITS ARGAN OIL MOROCCO
--Return the skin and improves the radiance for the complexion.
– makes and protects the skin's moisture epidermis.
– A gentle natural makeup remover for the eyes
– decrease the signs of aging as very good for anti-wrinkle.
–Perfect Treatment of itching eczema,acne, psoriasis, cellulite.
– Helps against cracking to drying of the skin sensible.
– Organic USDA and effective for stretch marks in pregnant women skin .
– the first Nourishes, strengthens and gives hair shine.
– – the secret treatment for fragile nails.
-- and many benefits... :-)
---