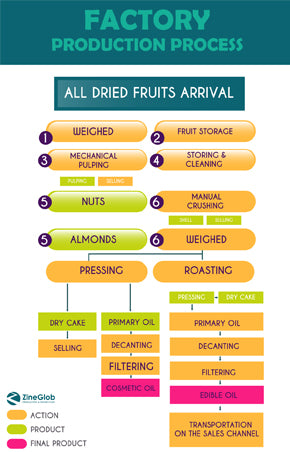 Factory Production Process - Argan Oil - Prickly Pear seeds Oil
ZINEGLOB is a Moroccan company, founded in 2006. It specializes in the production and export of Argan oil.
Since its creation, ZINEGLOB has achieved a lot of development work about Argan oil and its production. We mostly work on the development of production processes and the development of Good Manufacturing Practices.
Today, ZINEGLOB is the only Moroccan company, which has developed a new method of extraction of Argan oil, completely cold. Our extraction capacity of Argan oil, with two hydraulic presses, is around 1000 liters of oil per day.
Also, we have developed a new filtration process for our Cosmetic Argan oil, which provides deodorized Argan oil, ultrafiltered and of a superior quality. This method is based on the use of natural charcoal and the use of our new filtration machine, which has a capacity of approximately 3000 liters per day.
Concerning the Quality Commitment, and aiming to ensures better traceability of the product, ZINEGLOB controls all stages of the production process, from raw material supply to after sales. Our quality guarantees a better selection of argan fruits and its transformation in an environment eliminating any risk of damaging which may affect the organoleptic properties of Argan oil. Our Argan Oil is certified organic NOP, USDA, and AB.
Factory Production Process - Argan Oil - Prickly Pear seeds Oil ( see picture )            
To meet the different needs of its customers, ZINEGLOB has 3 types of offers:
An offer of packaged products * (Bottle, bottle, jar, bag, ...) under his own label "zineglob" and " private label";
Custom labeling of our products to meet the visual identity and the message of the customer;
A wholesale offer for professional and retail customers which concerns all of our products (Offer in bulk)
In terms of our offer, especially for virgin Argan oil, extracted Cold, and Organic certified, our current price per liter from the factory. That said, if the quantity of the order exceeds 2000 Kg, we are willing to drop the price in order to provide you the most competitive offer regarding the volume of your order.
We wish to inform you that the most important in our offer, it is particularly our commitment to ensuring the delivery of higher quality virgin cosmetic Argan oil, with a similar quality service.
---