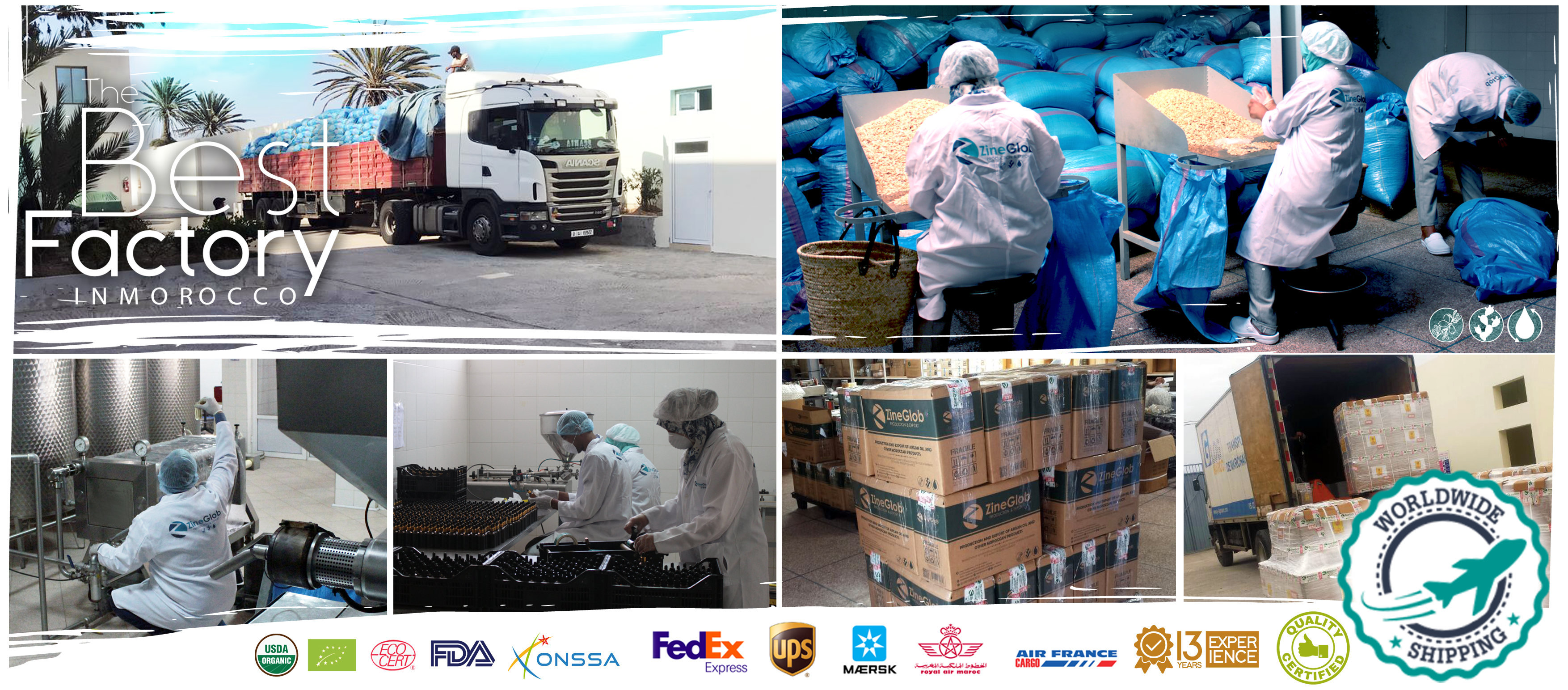 Cold pressed Argan Oil factory
Argan oil is also named "the gold from Morocco", not only because of its exclusive taste, but also because of the way it is produced. To make culinary Argan oil, the seeds of the fruit are gently roasted in a special manner and cold pressed afterwards. Cold pressed Argan Oil factory needs Approximately 30 kg of Argan seeds are needed to press 1 l. of this precious oil. The taste of Argan oil is distinctly nutty. Rich in essential fat acids and minerals magnesium. The superior quality is achieved due to the direct roasting and pressing within 24 hours after opening of the nuts as well as the immediate bottling after the cold pressing. This ensures constant quality, Cold pressed Argan Oil factory , it preserves the vitamins and gives an optimal freshness.
Zineglob Cold pressed Argan Oil factory provide Argan oil is very healthy because it contains a several minerals, vitamins and important fatty acids like:
Omega 6 and 9 ; Due to our current diet, our system get less and lesser omega 6. Omega 6 stimulates the immune cells and the immune system. Inhibits the synthesis of cholesterol. The Argan oil has a good balance of the Omega 9 and 6.
Vitamin E ; Vitamin E (tocopherol and tocotrienols) is a mixture of 8 fat soluble substances. This vitamin plays an important role in the production of red blood cells. Also vitamin E is important for the resistance and also keeps you in tissues. It is an important antioxidant which strengthens our immune system. A desert spoon of Argan oil each day helps to reduce your cholesterol level.
         Our Cosmetics and culinary Argan oil is certified by USDA ORGANIC:
Our argan oil products are certified by organic usda extended the argan oil and the entire harvest and production. This Organic USDA label focuses on environmentally friendly production of food, cosmetics and clothing. Cold pressed Argan Oil factory gives Products with the Organic USDA label contain natural ingredients from organic cultivation. Cold pressed Argan Oil factory certified The Organic USDA certified products should be at least 95% ingredients of natural origin.
---